Additional Information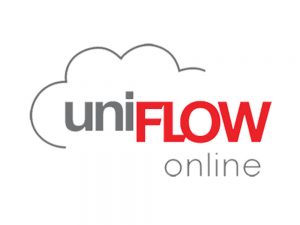 Simple, Serverless, Secure.
uniFLOW Online is a scalable and secure cloud-based solution for organizations of all sizes.
Leveraging on the capabilities of Canon's multifunctional devices, uniFLOW Online optimizes business processes, reduces capital investment and offers security and control to manage print cost.
Features:
Flexible Authentication
While uniFLOW Online uses authentication to enhance document and device security, multiple options are available to facilitate this process; offering flexibility for users without compromising security.
Secure Print
Secure pull printing capabilities safeguard sensitive information, reduce waste and help organization control privacy and document security regulations.
Scan to Cloud
Scan is direct and efficient to major cloud-based destinations such as Google Drive™, Box, Microsoft SharePoint® Online, OneDrive®/ OneDrive® for Business, Dropbox, Evernote® and Concur®, upon authentication.
Track Scan, Print & Copy Cost
uniFLOW Online is a centralized platform that tracks usage and print costs. The intuitive graphical dashboard and reports help administrators gain greater insights into usage trends and facilitate informed decisions for cost reduction measures.
Mobility
uniFLOW Online empowers user with the flexibility to work, store, access and print document anytime, anywhere.
​​​​​​​Mobile printing offers guest user the convenience to print required document without accessing to the company's network.
Outstanding Cloud Output Management Solution
uniFLOW Online was awarded an Outstanding Cloud Output Management Solution by Buyers Lab, world's leading independent evaluator for the digital imaging industry.